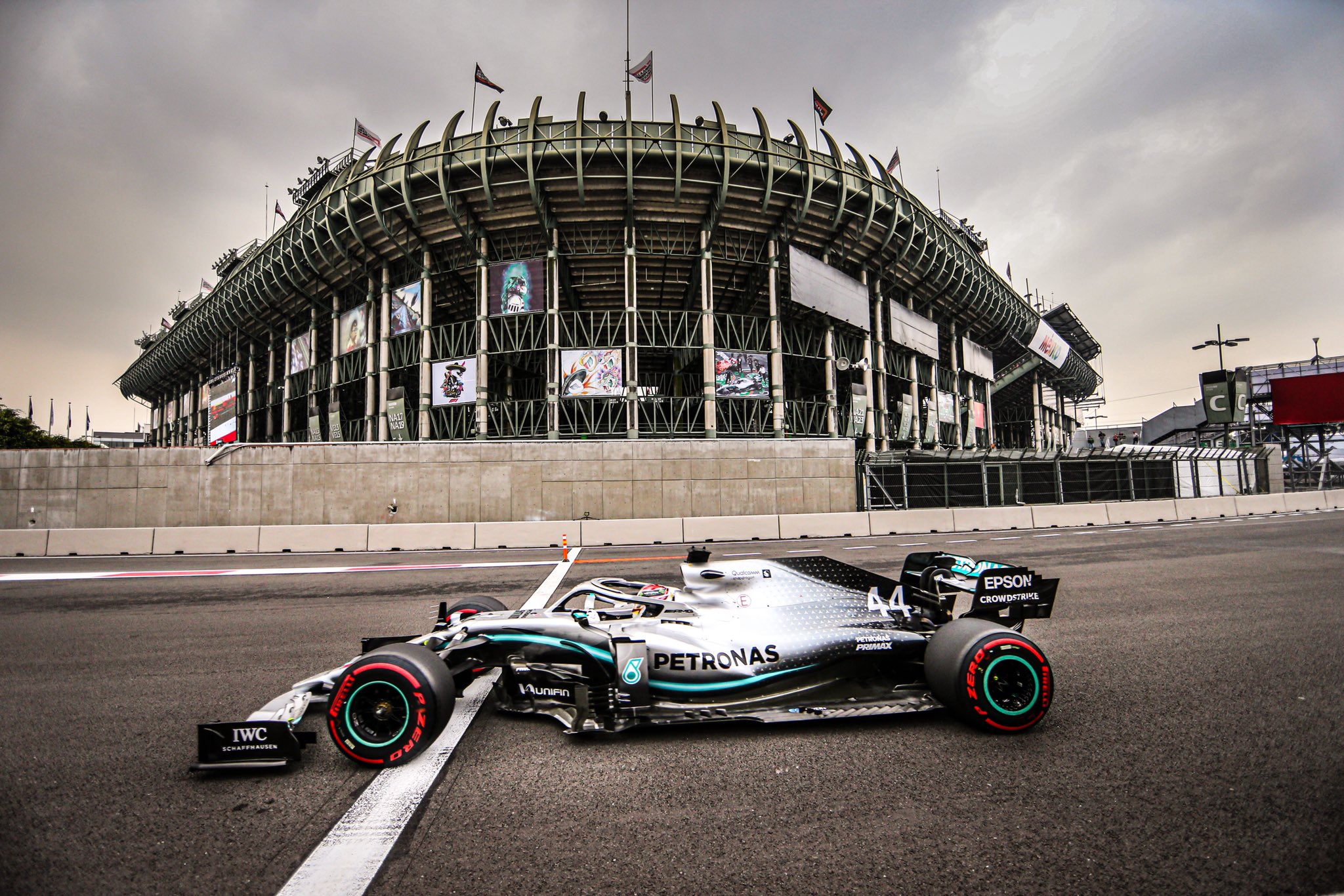 Tyres and turbulent air was the theme of the 71 laps of the Mexican Grand Prix, which saw Lewis Hamilton overcome the tyre degradation and win on a one stop strategy, something that seemed unlikely earlier in the week.
The odds were against him in a hectic start. Surprisingly, the top 2 maintained position despite the long rundown to the first corner. Hamilton attempted to get past Vettel but was not given much room and had to back off. This allowed Verstappen to get alongside and they touched going into Turn 2, dropping Hamilton to fifth behind Albon and Sainz, and Verstappen further down the order behind Norris, who had made a good start, and Bottas.
Whilst Hamilton found his way past Sainz and got ahead of Albon in the pitstops, Verstappen was also setting about making his way through the field and he made what looked like a brilliant pass on Bottas in the stadium. However the pair had touched resulting in a puncture for Verstappen. Like the Drugovich/Shwartzman incident in the second F3 race in Hungary, I believe this incident was very unlucky to end the way it did, and it removed Verstappen from contention, although he did go on to produce a solid fightback.
Lando Norris made a good start, getting ahead of Bottas, a position he quickly lost but things were looking good until a loose wheel basically ended his race. The latest incident in an impressive rookie season that has been plagued by bad luck.
Then strategy became the talk. Alexander Albon and race leader Charles Leclerc committed themselves to a 2 stop strategy by pitting early. However Lewis Hamilton stayed out long but was a little iffy on whether he would one stop, whilst Sebastian Vettel and Valtteri Bottas stayed out long enough for the one stop.
When Charles Leclerc pitted, he began to catch up to Bottas and Vettel, who were catching Hamilton, but an issue in his pitstop resulted in a loss of 4 seconds which could've easily made a big difference, by the time he caught up he no longer had the tyre advantage and with the turbulent air, he could not get close enough, especially after running wide.
Vettel and Bottas were catching Hamilton, who many thought may have to stop again, but he stayed out, and eventually it proved too little too late. Lewis Hamilton won the Mexican Grand Prix, taking his tenth win of the season and is now only four points away from winning the championship. Sebastian Vettel finished in second ahead of Valtteri Bottas, a slightly disgruntled Charles Leclerc and a strong showing from Alexander Albon.
As mentioned earlier, Max Verstappen drove well and fought his way to sixth ahead of Sergio Perez, who pretty much as expected made use of his free tyre choice to pull off a solid drive to seventh at his home race, fending off an attack from an aggressive Daniel Ricciardo, who finished in eighth.
Nico Hulkenberg looked on to finish in ninth but was punted into the barrier by Daniil Kvyat at the final corner. Kvyat finished in ninth but was penalised with a time penalty that dropped him to eleventh. This promoted Pierre Gasly to ninth and Nico Hulkenberg, who crossed the line without his rear wing, to the final point in tenth.
Lance Stroll finished in twelfth ahead of Carlos Sainz, the sole finishing McLaren, who struggled with his tyres and dropped down to thirteenth, whilst it was a tough day for Alfa Romeo, Haas and Williams, who weren't close to scoring points.
Here is the result of the Mexican Grand Prix.
1. Lewis Hamilton (Mercedes)
2. Sebastian Vettel (Ferrari)
3. Valtteri Bottas (Mercedes)
4. Charles Leclerc (Ferrari)
5. Alexander Albon (Red Bull)
6. Max Verstappen (Red Bull)
7. Sergio Perez (Racing Point)
8. Daniel Ricciardo (Renault)
9. Pierre Gasly (Toro Rosso)
10. Nico Hulkenberg (Renault)
11. Daniil Kvyat (Toro Rosso)
12. Lance Stroll (Racing Point)
13. Carlos Sainz (McLaren)
14. Antonio Giovinazzi (Alfa Romeo)
15. Kevin Magnussen (Haas)
16. George Russell (Williams)
17. Romain Grosjean (Haas)
18. Robert Kubica (Williams)
R. Kimi Raikkonen (Alfa Romeo)
R. Lando Norris (McLaren)
As mentioned earlier Lewis Hamilton is now just four points from securing his sixth drivers title. The only way Valtteri Bottas can win now is by winning all of the last 3 races with Lewis scoring less than four points. Whilst the battle for third is looking interesting with Charles Leclerc, Sebastian Vettel and Max Verstappen separated by just 16 points. In the constructors, Ferrari are touching distance from securing second, whilst Racing Point are now level with Toro Rosso for sixth.