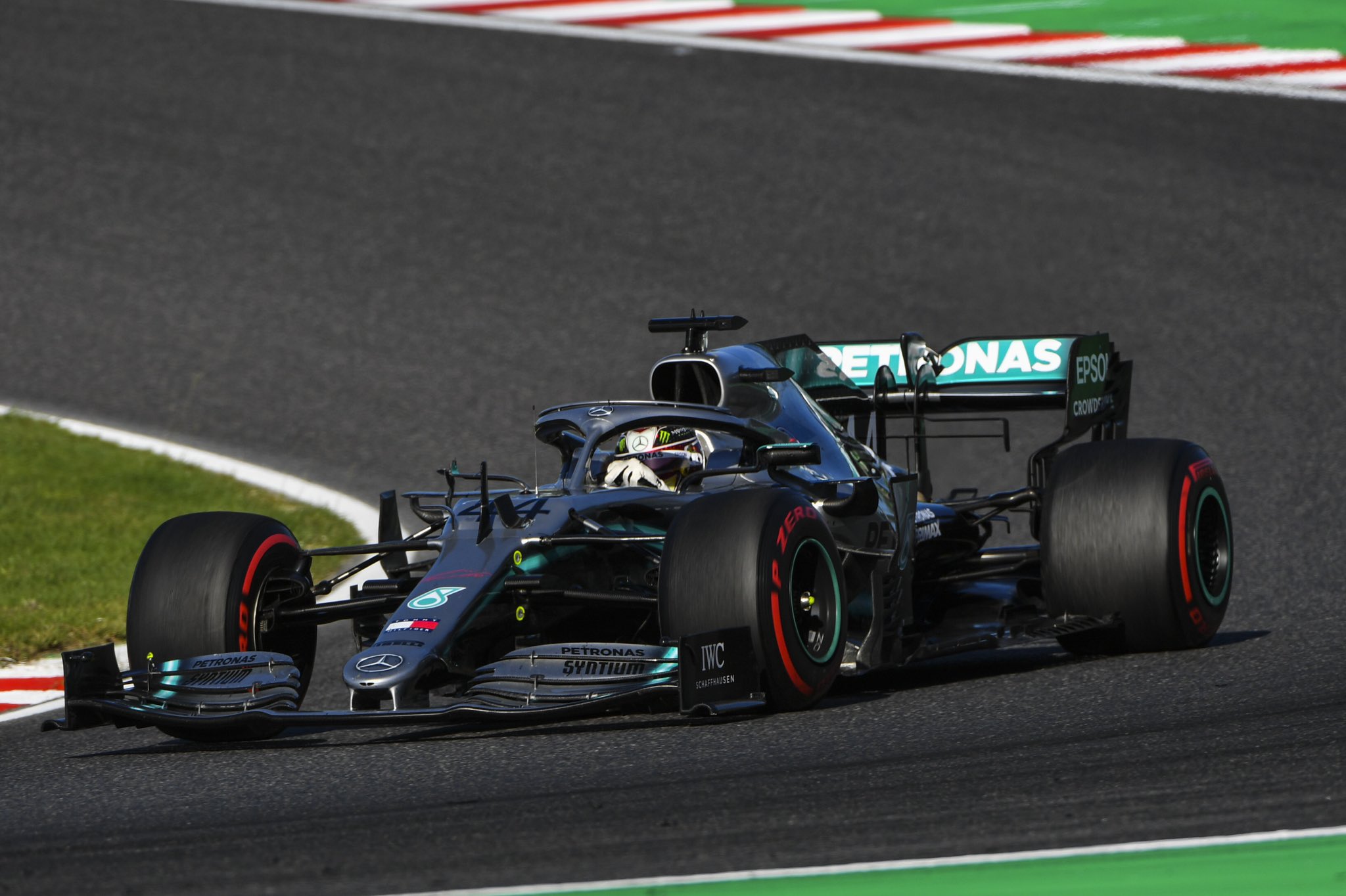 In a strange Grand Prix Sunday, which saw Qualifying take place a few hours before the race, Valtteri Bottas took the win in a fascinating race which looked like it may see varying strategies but ultimately his two stop was the way to go.
Qualifying saw Ferrari come out of the blue once again to lock out the front row, with Sebastian Vettel taking pole ahead of his team-mate Charles Leclerc. This half seems to be a role reversal of the first half when it comes to sudden pace in qualifying. Before it was Mercedes who weren't showing their hand till qualifying, giving illusions that Ferrari were fast. Now it is the other way round. This is really ominous for Mercedes as a lot of the updates that have worked were in preparation for 2020. They locked out the second row with Valtteri Bottas ahead of Lewis Hamilton, with the two Red Bulls of Max Verstappen and Alex Albon setting identical times behind.
But it all went from Ferrari at the start. Both drivers got away poorly, with Vettel even creeping before hesitating, which resulted in him losing positions and was lucky not to receive a penalty. Leclerc was under threat from Verstappen before they connected on the exit of the first turn, damaging both cars. Leclerc's wing was damaged, in which he continued for a few extra laps before the errant endplate flew off and he eventually pitted. He fought his way up to sixth with some solid overtakes, particularly at the Spoon Curve, but a 15 second time penalty, 5 for the collision and 10 for continuing with his front wing dragging on the ground, dropped him to seventh.
The race was between Bottas, Vettel and Hamilton. Bottas and Vettel stopped early for the two stop, whilst Hamilton was kept out for a while, keeping the idea of a one stop strategy open. Eventually he pitted for the second stop and on fresher softs he caught up to Vettel, but the Ferrari proved tricky to pass and he couldn't get the job done.
Valtteri Bottas duly took the win, taking his first victory since Baku ahead of Vettel and Hamilton. With Leclerc finishing seventh, Mercedes outscored Ferrari by enough points to take their sixth consecutive constructors standings. It also puts any non-Mercedes driver mathematically out of contention, which means they have effectively secured both titles for the sixth consecutive year, which has never been done before in Formula One history. A huge testament to the work the Silver Arrows have done this year.
Alexander Albon finished in fourth, taking a career best finish for Red Bull, in a drive that included some feisty driving, including contact with Lando Norris on a passing attempt. Carlos Sainz finished in fifth ahead of Daniel Ricciardo who benefited from Leclerc's penalty to finish in sixth. Charles Leclerc as mentioned before ended up seventh ahead of Pierre Gasly and Sergio Perez. Perez crashed out on the last lap after contact with Gasly, but a checkered flag error meant the race result was counted back to the penultimate lap, meaning Perez's points stand. Whilst Nico Hulkenberg gets the final point.
Or so we think. A post race protest from Racing Point sees Renault's points from this race at threat. Components of their cars have been impounded by the FIA and if a disqualification takes place, it would promote Lance Stroll and Daniil Kvyat into the points, and would be really costly for Renault against Toro Rosso and Racing Point. By my calculations it would put Toro Rosso level with them and right in the clutches of Racing Point.
One driver that wouldn't benefit would be Lando Norris, who's race was ruined by debris from Leclerc's car getting into his brake ducts, whilst there were no points for either Haas, Alfa Romeo or Williams.
Here is the result of the race.
Valtteri Bottas (Mercedes)
Sebastian Vettel (Ferrari)
Lewis Hamilton (Mercedes)
Alexander Albon (Red Bull)
Carlos Sainz (McLaren)
Daniel Ricciardo (Renault)*
Charles Leclerc (Ferrari)
Pierre Gasly (Toro Rosso)
Sergio Perez (Racing Point)
Nico Hulkenberg (Renault)*
Lance Stroll (Racing Point)
Daniil Kvyat (Toro Rosso)
Lando Norris (McLaren)
Kimi Raikkonen (Alfa Romeo)
Romain Grosjean (Haas)
Antonio Giovinazzi (Alfa Romeo)
Kevin Magnussen (Haas)
George Russell (Williams)
Robert Kubica (Williams)
Max Verstappen (Red Bull) Damage
* = Provisional
In the drivers standings, whilst the top 3 stay as they are, Vettel is now level with Verstappen for fourth due to the latter's recent downturn in form, whilst Sainz is ahead of Gasly for sixth, with Albon not far behind. The battle for second between Ferrari and Red Bull in the constructors is still on, whilst as mentioned before, a disqualification for Renault could be costly.