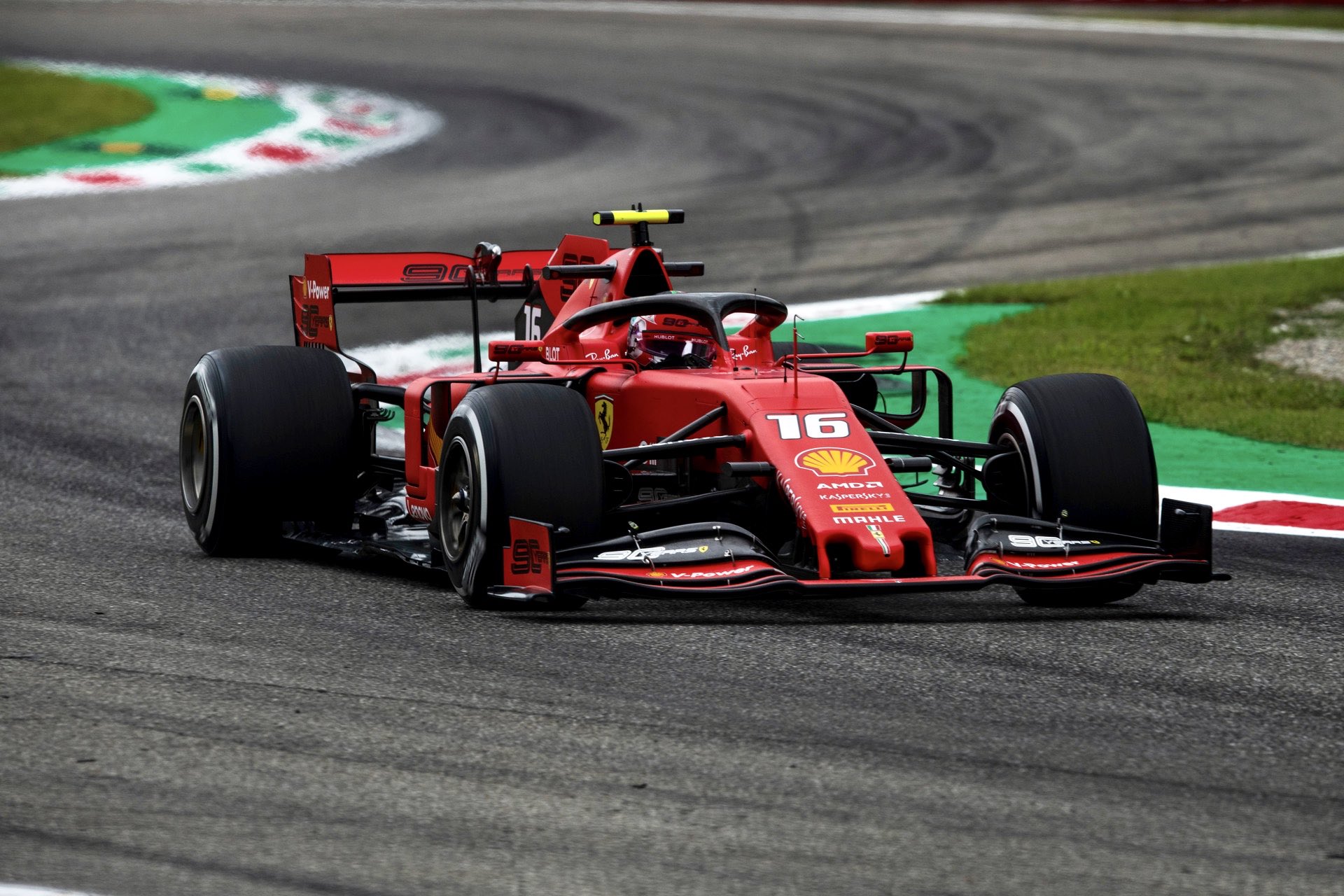 Charles Leclerc took his second straight win in Monza after having to handle race long pressure from both Mercedes cars, which he handled with some robust defence, putting on a great show for the Tifosi.
At the start, Hamilton got the better launch, but was boxed in by Leclerc's defence that almost allowed Bottas past, but the Brit stood his ground, whilst Vettel lost out to Hulkenberg. Unsurprisingly he quickly made light work of the Renault on Lap 2. Whilst at the back, Verstappen damaged his front wing despite being cautious into the first corner, which was a major setback to his race.
The leaders stayed status quo till Vettel lost it at the Ascari chicane, where on rejoining the track he clipped the Racing Point of Lance Stroll, which put him into a spin and his car was on the racing line. On recovering, Pierre Gasly had to take avoiding action as well. Unsurprisingly, Vettel received a 10 second stop go penalty for something you don't really expect from a 4 time champion. Whilst Stroll received a more lenient drive through as his car was on the racing line before he rejoined.
Hamilton pitted and attempted an undercut on Leclerc, which was immediately countered by Leclerc pitting a lap later. The Mercedes made gains despite only a lap distance and as they passed Hulkenberg who had yet to stop, Hamilton got a double slipstream and attempted to pass at the chicane, which Leclerc defended. He tried again at the De La Roggia, but Leclerc only just failed to leave a car's width, and was handed a black and white warning flag, which was fair.
Hamilton kept putting the Ferrari under pressure, before Leclerc cracked and skipped the chicane. That put him right in the firing line for any Hamilton overtake, but robust defence prevented the Mercedes getting through.
Hamilton kept the pressure on until he himself cracked and missed the first chicane. That put Bottas, who had pitted a lot later and was closing rapidly on the leading pair, in second and on the rear of Leclerc, and kept the Monegasque honest even after he made a mistake at the Rettifilio, but Charles Leclerc handled the pressure expertly and took his second straight win, and Ferrari's first win at Monza since Fernando Alonso in 2010.
Valtteri Bottas finished in second ahead of Lewis Hamilton in third. Whilst Daniel Ricciardo, who'd past his team-mate after he was passed by Vettel, finished in fourth ahead of Nico Hulkenberg, collecting some great points for Renault.
Alex Albon finished in sixth after exhibiting more daring moves, most notably his attempt at passing Carlos Sainz which was very Ricciardo esque, however Sainz fought back and both went into the gravel at Lesmo 1, putting that move to waste. He finished just ahead of Sergio Perez, who managed to get up to seventh from the back of the grid as a result of a good strategy and pitting under the VSC. He fended off Max Verstappen, who finished in eighth. Antonio Giovinazzi made up for his crash in Spa to finish in ninth ahead of Lando Norris, who took the final point in tenth, taking the sole point for McLaren after Carlos Sainz retired due to his wheel not being secured in his pitstop.
It was a bad day for Toro Rosso, Daniil Kvyat had just pitted under the virtual safety car and looked to make some great gains as a result and get a load of points before he retired with an engine problem. His team-mate Pierre Gasly just missed out on points and finished in eleventh ahead of Lance Stroll who finished in twelfth after his penalty. Sebastian Vettel had no chance to get back to the points and finished in thirteenth ahead of George Russell in fourteenth. It was a bad day for Kimi Raikkonen as he had the wrong tyres fitted when starting from the pits, resulting in a penalty that ruined his race. It was another bad day for Haas as they had no race pace once again, Romain Grosjean finished in sixteenth whilst Kevin Magnussen retired. Whilst Robert Kubica rounded out the finishers.
Lewis Hamilton has a 63 point gap over Valtteri Bottas, whilst Max Verstappen has now dropped to 36 points behind Bottas, and only 3 points ahead of Charles Leclerc in fourth. Sebastian Vettel has now dropped behind his team-mate as a result of failing to score. Whilst in the constructors, Renault move ahead of Toro Rosso for fifth.